We're in Cambodia for more that 2 weeks now. Its a substantially smaller country than Vietnam and most travelers spend only 2 or 3 weeks here, but for the leisurely pace we're on, we'll need more than a month. In fact, we've already extended our visa by another month :)
The first week here we spent in a town called Kep, only 20km from the Vietnam border. We stayed in a very cozy wooden guesthouse situated between a small mountain range and the warm waters of the Gulf of Thailand. During the second week we visited a couple more places in Cambodia's south (Kampot and Sihanoukville) and spend a couple of lazy days on a small island with incredibly white sand beaches and turquoise water.
We must admit that it doesn't feel like we saw the real Cambodia yet and naturally we're comparing everything with Vietnam. So, here are some of the interesting things we noticed about the Khmer land:
* There are noticeably more beggars on the streets of Cambodia. Every time you sit down for a meal, you're immediately approached by either old feeble grandmothers, men who'd lost a limb or two in the war or on a land mine, young mothers with butt-naked in their hands, or small children covered in dirt. Its not a comfortable situation, and can upset one's appetite, and while they appreciate every small change you give them, there are too many of them for us to support all..
* The local women like to wear long and colourful skirts. Gerda has already bought a couple of them and is met with a friendly smile from the locals in return. It seems the material is made in Indonesia though.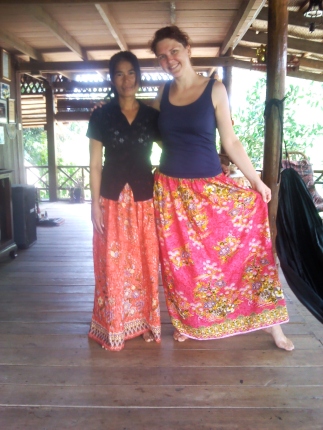 * Every morning you can see monks, bare footed in their orange robes and with orange umbrellas to cover from the sun. They travel from house to house, asking, without emitting any words, for a donation of food and money. We learned that in Cambodia monks aren't allowed to work and so this is the only way to support themselves.
* Motorbikes here seem even more run down than in Vietnam and only occasionally do you see a new model. Where Cambodia does overtake Vietnam greatly though, is in the number of brand new and gigantic 4x4s, mostly Toyota's, but also Lexus'es and Range Rovers, all with tinted windows. They make-up most of the car traffic, especially in bigger cities, and many bear official State or Royal Cambodian Armed Forces number plates.. Some of the jeeps don't even bother with number plates at all – we're told these are the highest people in the country and they can do whatever they please.
* The sun here is mercilessly hot, even hotter than one met in the south of Vietnam. And even more so if you're traveling down a red soil road with not a shade in sight, surrounded by dried-up rice fields.
* Vietnamese kids, on meeting a foreigner, laugh with joy, in Cambodia they put on their saddest faces and approach you with stretched-out hands for money. We're told they're a lot less needy in the countryside.
* One evening in Phnom Penh (the capital) we went to the cinema. Before the film started, with the lights still on, a message on the screen asked everyone in the audience to stand for the national anthem of Cambodia. Of the 7 people there, Gerda was the only one to stand-up.
* Food and petrol prices here are higher here than in Vietnam. The hotels cost about the same. Here go the stories we're told about this being a cheaper country to visit :)
* What we've seen of the Cambodian cooking so far is no match for the Vietnamese cuisine. While there are some traditional dishes here, many recipes are adapted from China or Vietnam. Fried noodles or rice with vegetables, egg and meat is one of the most commonly found dishes. Noodles, both for frying and in soups, are usually of the instant, made in China variety.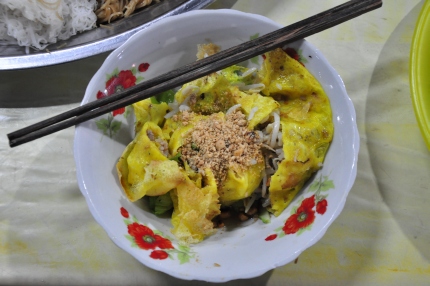 * There's a large number of foreigners living in Cambodia. They can be found even in smaller towns, working for some NGO, but in the places frequented by tourists many immigrants own bars, hotels or restaurants. Add this to the large number of white-faced tourists and you can easily forget which country you're in.