And why on Earth did we choose to go there? Well, its the legends about mountains of undescribable beauty, terraced rice fields and colourful costumes of the local tribeswomen. And the legends did not disappoint. The mountains are indeed majestic, covered in dense, emerald green jungle and rice paddies arranged like staircases straight into the skies. Its like the entire landscape is made from picture-perfect postcards. I find it difficult to imagine the locals working the steep fields with their water buffalos.
Unfortunately, the other half of the legends, and the warnings in the guidebook, prooved to be true too – the town of Sa Pa is located high-up in the mountains (about 2km) and its officially the coldest place in Viet Nam. We just weren't prepared for the low single digit (Celcius) temperatures we found here; we thought we're going to warm places and so left all the woolly scarves and gloves in the cold continent of European winter. Who'd have thought they would've been mised in Sa Pa. We also experienced the no-heating-here hotel room, and windows and front door, opening straight into the terrace, so badly alligned that you could see and really feel what the weather was like outside without having to go out.. Electric blankets and firewood are easily available of course, for an extra charge (for many of Vietnamese aren't happy to give anything for free – the taxi driver doesn't give directions, but he'll happily take you there for 50,000 dong). Most of the cafes and restaurants, all trying hard to look western, aren't any warmer and the staff serving you are wearing winter jackets, hats and gloves, probably part of the uniform. Can't help wondering whether we've arrived at a winter resort; I think I can hear Christmas songs starting up in my head :) All wasn't so bad though, as we had great company in the form of Mark & Stephanie from Melbourne, who we spent two fun days treking up and down around the mountains and drinking lemongrass tea with crystal-clear Sa Pa honey with. We might meet them again in the south of Viet Nam.
The guide was also right about the Sa Pa town and the fog so thick you can't see more than 2 meters ahead, let alone the landscapes around. We'll probably have to come back here during the warm and dry season.
It's not all mountains in Sa Pa though, as the traditional women apparel is no less impressive. It so happened, several hundred years ago (surprisingly recent), that a few different tribes have migrated into northern Viet Nam from the neighbouring countries. Most of them have preserved traditional culture, language, crafts and clothing. And you should see the variety of styles of their costumes!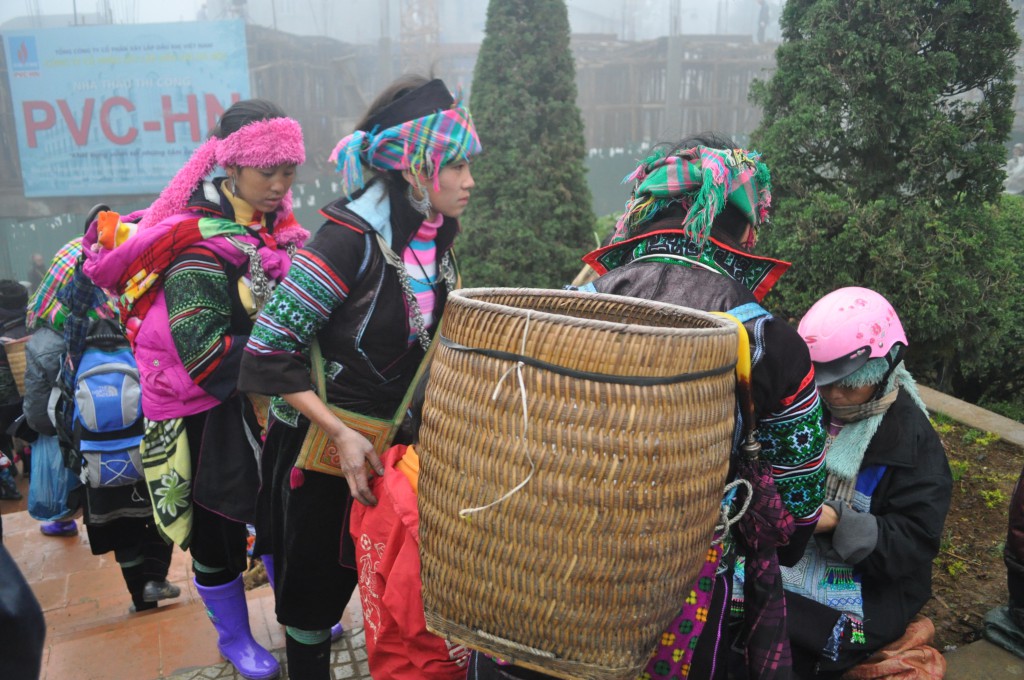 We learned a great deal about small non-Vietnamese tribes living here from our visit to the Museum of Ethnology in Ha Noi and two of them we met here in Sa Pa. Women from the Black H'Mong and Red Dzao tribes can be met on every street, offering handcrafts to all the passing tourists. All of the stuff is hand made by each of them, usually during the long evenings of winter. It seems most of the rest of the year they pack their baskets with hand-made goodies and make their way from the villages to Sa Pa to "hunt down" tourists, often carrying several month old babies on their backs. Sometimes they're quite annoying, in their insistence of you buying something and following you around for ages, repeating "buy something" till you become enchanted. On the other hand, we found all of them to have a great sense of humour and there were plenty of jokes going around (us offering to sell our western gear to them, for ludicrous amount of $100, for example) and some more serious conversations about their way of life. We were pleasantly surprised by their impressive command of English, picked-up from years of harassing the poor tourist :)
Our curiosity led us to "hook-up" with Susu, a Black H'Mong woman, who invited us for lunch to her house. Her village was 12km away from Sa Pa, so we set out shortly after late breakfast.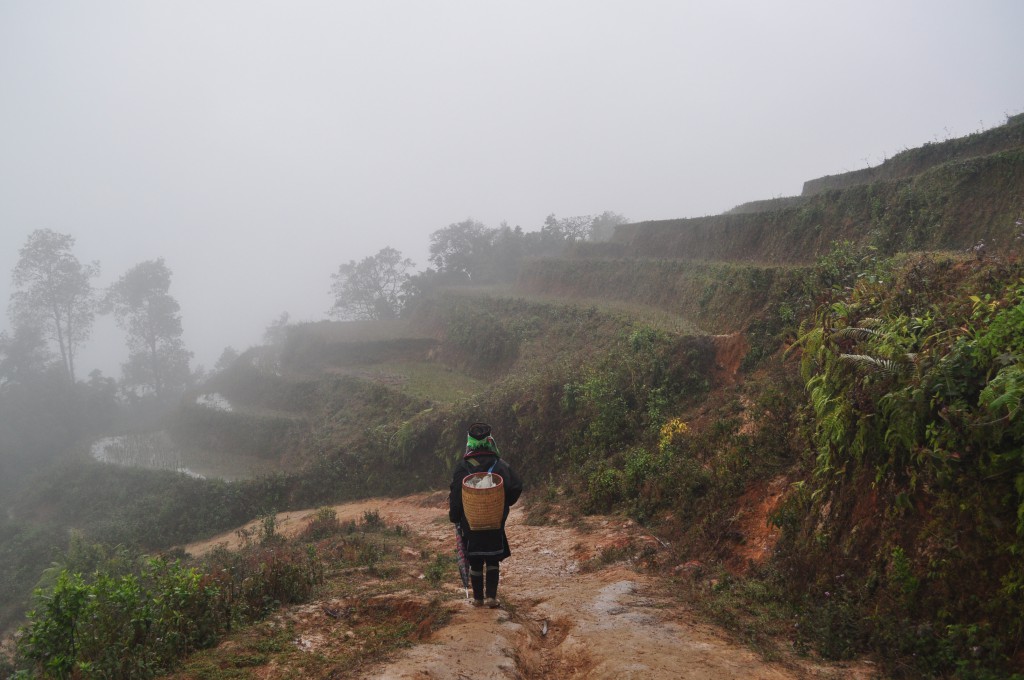 The windy road lead us away from the town and shortly we turned onto a muddy path. The mountains and valleys opened-up in partial view as the fog cleared somewhat and the path soon turns into a mess that resembles a mud fighting arena.. After about 3 hours of trekking and mud-sliding (have some video evidence of that), we reached Susu's house. It looks more like a cattle shed than a house though – no windows, gaps between the wood planks making up the walls, dirt floor, small fireplace in the hole in the ground, couple of pieces of furniture, a widescreen CRT TV (can't possibly imagine how they managed to bring it back from the shop through all that mud), and either a VCR or a DVD player next to it. Its also mostly dark, with the single light bulb turned on only when actually needed. We meet Susu's husband and two of her youngest children (she has 6 in total), sitting around the fireplace and, without any introductions as they don't speak a word of English, she proceeds to make us some food. It was fried tofu in fresh tomato sauce topped with fried egg & onion that Susu bought in Sapa market earlier, alongside rice from their own rice field, and man it was delicious! The rice was full of flavour, something I didn't think was possible, the tofu and eggs were the best ever; we ate loads. After food, the husband, receiving a "suggestion" from Susu, pulls out a bottle of rice vodka and we sample a few shots. Afterwards Susu tells me how she uses indigo plant to dye fabric, does tradditional stitching and allows me to try on her beautiful embroidered jacket. It all feels a bit like we travelled back in time. Soon its time for us to head back, we exchange a few small gifts and Susu leads us through more mud to the nearest tarmac road, where we take motorbike taxi back to Sa Pa and get to see more amazing mountains and valleys on the way. We say our goodbies like friends and are invited to stay for a few days next time. We're already thinking how nice it would be here when the weather is warmer, possibly on our next visit to Viet Nam.
A day later, when we both start showing symptoms of oncoming cold, we decide to immediatelly head away from Sa Pa to somewhere where its warm. We make a brief stop in Ha Noi and head south on the coastal train line. First stop – Dong Hoi in central Viet Nam. We spend a couple of drizlly and cool days walking on empty beaches and quiet streets, sampling produce from local bakeries and watching a lot of TV..
A few days of that was enough, and having checked the weather forecast we decide to head to seemingly the only place where its hot and sunny this time around – Saigon, 1170km / 25 hour train journey south, to Viet Nam's take at a "city that never sleeps", possibly due to the incredible temperature that never drops under +32 degrees C, but thats a story for next time.