Mekong delta – most southern area of Vietnam, covered in hundreds of streams and canals and many legends about the beautiful nature one can find there. The latter is definitely true, nowhere before have we seen so many waterways, lush fruit orchids and cool palm glades. To the average tourist, the Mekong delta area is mostly known for the several floating markets. Those are an incredible spectacle – all trade takes place on the water – goods and cash are exchanged between one boat and another. The larger boats are stationary and full of fresh local fruit and veg, while the smaller, motor or rowing boats, and sometimes equipped with both, gracefully shift in between. Two of the most agile little boats are actually selling drinks and food, catering to the needs of both the traders and the buyers. In four days we visited three such markets and the memory of them is firmly ingrained in our heads. We also have quite a few nice pictures :)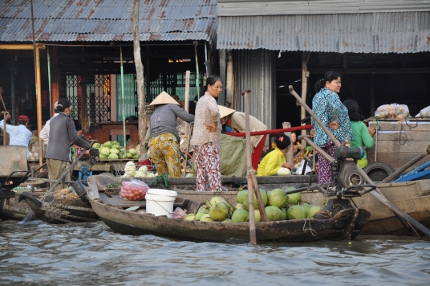 The thing that impressed us in Mekong delta region most though, was the incredible hospitality we received from the locals. Nowhere else in the whole of Vietnam have we been called in for refreshments and a sit down in local villagers' houses so many times. Such generosity is also not tainted with hidden agendas to sell us something. Even though the person inviting us speaks 5 words in English, he's perfectly happy to just have us over for a few minutes. When we say our goodbyes, we're often given gifts of fruit to take with us.
Once, while looking for somewhere to eat lunch, we accidentally crash into a Vietnamese girl's 19th birthday party. As you probably imagine, we were greeted as guests of honor – the photographer is at once ordered to take many photos of us with the birthday girl and her extended family, while the women busy themselves to lay a table loaded with delicious foods. Then follows the huge and extremely sweet cake and, of course, we're offered lots of rice wine throughout :)
The friendly Vietnamese lady, now living in Australia, that we met in Ben Tre, not only bought us coffee and delicious sticky rice and banana snacks, but also convinced her brother to hire out his motorbike to us. When we parted a few days later, she refused to listen to our polite refusals for accepting any more gifts from her and bought us some really good ointment to treat mosquito bites.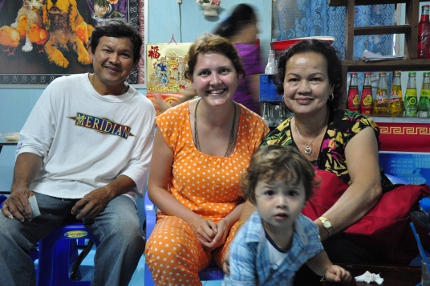 What a pleasant relief this region is after our stay in Saigon! Not to mention the incredibly cheap and delicious mangoes and pineapples we devour every day :)