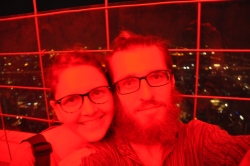 We hope so!
We arrive back in the UK on 5th December and on the 7th, the following Friday, we'll be enjoying pints of smooth Guinness in some pub in London (exact location still to be determined). We invite all of you to join us and participate in pint lifting. Attendance is mandatory! :)
And if any of you are in Vilnius (it's in Lithuania) on 14th December, we're basically doing the same there, so totally come along.
See you all very soon!

---
Tikimes, kad taip, nes gruodzio 5d. parskrendam i Londono Heathrow oro uosta ir nieko nelaukdami bei labai issiilge gruodzio 7d.(penktadieni) renkames pub'e Londone.
O gruodzo 13d. leidziames Lietuvos zemelej ir jau gruodzio 14d. (penktadieni) tinkames Vilniaus bare. Vietas patikslinsime veliau. Galite teikti savo pasiulymus ;)
Dalyvavimas butinas ;) Iki labai greito!