Since the first time we walked past a school in Hanoi, we always wanted to visit one. Not only because we were curious to learn about Vietnamese education system, but also to meet and greet the schoolchildren in person. Most of them always wave and say hello to us on the streets, while some, feeling more confident in their English, even start up a brief conversation showing off the learned phrases – "what's your name", "how are you", "how old are you" and ask to take a picture with us. So, when we finally learned that Mrs Lieu arranged a half-day visit to her high school, we were awfully excited.
We drive to school a little before 7am in Mrs Lieu's car and park in the shade right next to the building – since most students and teachers come to school by bicycle, there isn't a car park on the premises. First stop – the teachers' room, where we have some time to exchange a few words with the other English teachers; other teachers don't speak any English unfortunately. The female teachers, just like all students, have to wear a uniform – the traditional Vietnamese dress and trousers, while the men are all in well ironed shirts.
The dull but distinct sound of the gong marks the start of the first lesson at 7am (yes, that early). We head for our first class across the school courtyard and the pregnant excitement in the air is making our hearts beat twice as fast – dozens of eyes are fixated on us from the large windows of the classrooms and the balconies above our heads.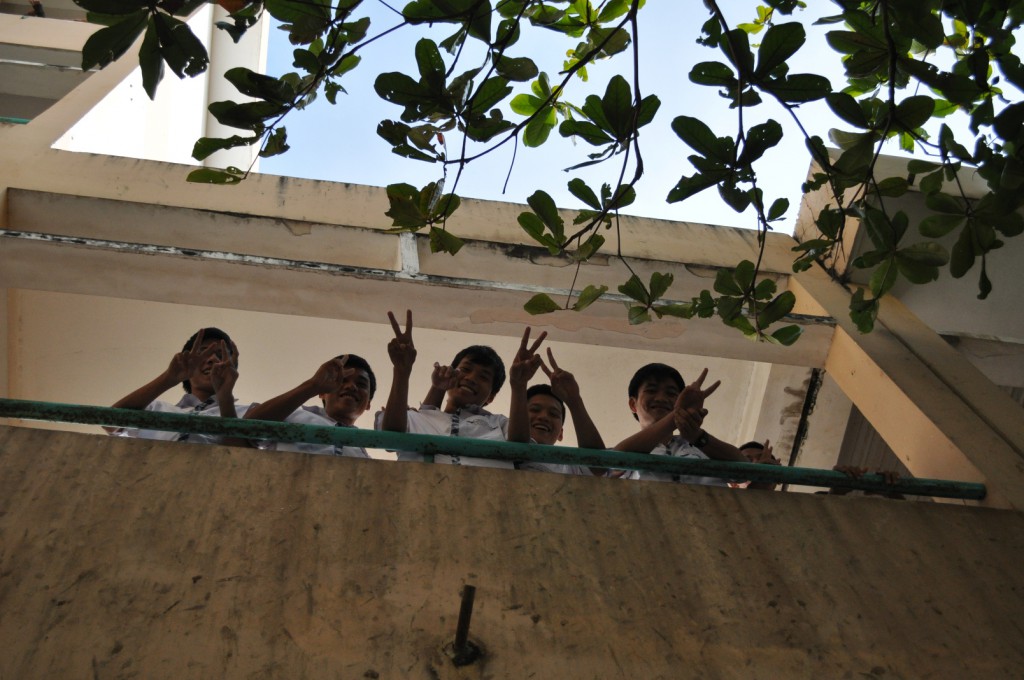 On entering the class, the students stand up and greet us in unison (in English too :). We are introduced as "visitors from London" and the whole class applauds – we grin speechless at this ecstatic welcome. The class begins and, after a short introduction of ourselves, to which the students listen to attentively, we proceed to a conversation on topics such as schooling, the upcoming Tet (Lunar New Year) holiday, family and hobbies. As in every class, the keen students are easy to spot right away, not only do they answer our questions but are quick to ask a question of their own. The first two classes we meet are year 12, but have only been studying English for a couple of years and inevitably some of our questions go unanswered. We learn soon enough that they're all really fond of singing, English songs too, and we're left very impressed after a couple of brave demonstrations. Of course we're invited to sing a song for them too, but have to refuse as neither of us know more than a couple lines of any song and couldn't even approximate the emotional involvement they display when signing. With karaoke bars existing in even the smallest of the villages in Vietnam, singing must be in their genes. One of the students also demonstrates his Kung Fu skills and Zygis is especially impressed (he's been secretly planning to join a martial arts school for some time now). We head off for the next lesson following a group picture with the entire class. The next two classes are year 10, but with an advanced level of English, so we are able to discuss more various topics and in more detail, although some students speak with a strong Vietnamese accent. Either way, their written English is evidently far better, as we've already received a couple of comments on our blog and gallery :) Please keep them coming!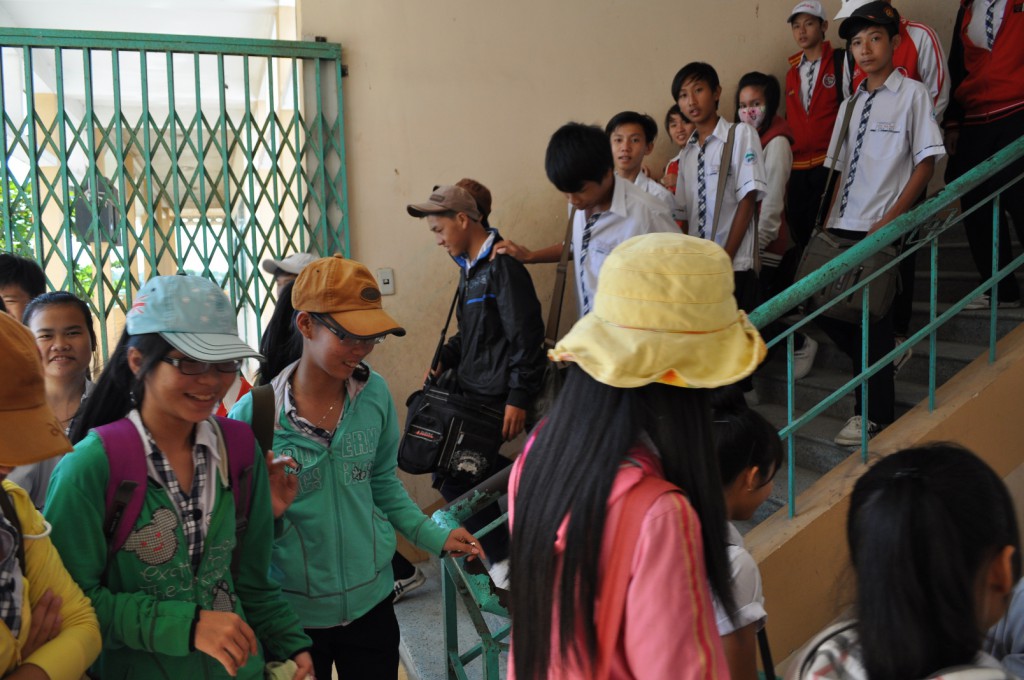 During the breaks we cause some more outbursts of excitement by just walking around, as everyone wants to say "Hello" in person or take a picture with us or shake our hand. The girls cast shy glances at Zygis and giggle; the whole corridor is in a standstill till we walk past.
At 10:20am every student heads off home for lunch. They have to come back at 12:30pm though, but our visit is over; we grab some ice cream and head straight for the beach – the sun is high in the blue sky and you either sit in an air-conditioned hotel room or in the wavy sea.
Next day the Mrs Lieu informs us that student's whose classes we didn't visit are eager to meet us as well – next time we're in Long Hai we'll be very happy to come again.
We hope Mrs Lieu and the students we met enjoyed our visit as much as we did and that some of them are reading this post too – hello again and, as many Vietnamese like to say, "see you again!".