Having left the busy capital city of Phnom Penh, we set off to visit a more rural Cambodia. We leave the bus half way between Phnom Penh and Battambang, in a small town of Pursat, settled around a stretch of National Highway 5. That same evening, we run into a group of 3 Peace Corps volunteers, who tell us about their experiences and mention a locally based NGO, Sustainable Cambodia. We decided to check it out.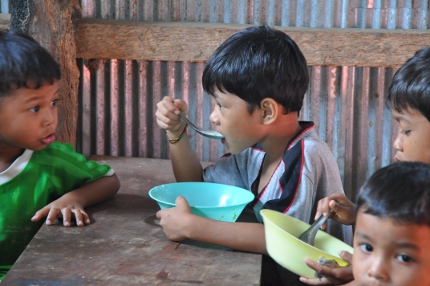 The NGO was established in 2003 by an American couple and these days is supported by donations from the Rotary Club (a network of pretty wealthy persons) from around the world. All of the paid workers are Khmer (about 60 at the moment), but they also welcome foreign volunteers. The goal of the NGO is to help the very poor locals in the province by providing education and assisting with agricultural issues. Specifically, they have projects ranging from building of schools in very remote villages to installing biosand water filters to providing micro loans to farmers. According to completely unofficial statistics, there are about 600 local and 800 international NGOs.
On our first visit there we were met with a lot of enthusiasm; many smiles, handshakes and introductory speeches. We decided to volunteer here for a week, starting immediately. The next day (Saturday), we were supposed to meet individual project leaders. Unfortunately, none of them turned up, and neither did anyone bother telling us that we're here for no reason at all. This confirmed our suspicions – just like in the "rich" west, the manufactured PR messages never match what you get "inside" the organisation, and, even more so for an NGO, this place will be somewhat of a mess. Even so, we decided not to grumble too early and come back on Monday.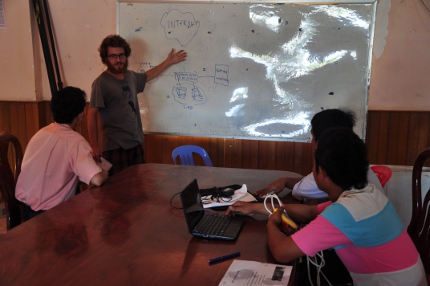 Monday was one of the most productive days we've had for a long time. So was Tuesday. And Wednesday.. At the end of the week, Zygis had not only managed to overhaul and extend their entire computer network, but also became a advisor and mentor to the entire IT staff (which is a whooping 3 people :). Gerda, in her own brilliant productivity streak, took into the health projects and spent the week analysing existing data on children's height & weight and comparing the results against existing children growth standards (an opportunity to revisit Prof Surkienes lectures!). Gerda also visited several villages to see the women education and children's food supplement projects.
So, the entire week was spent doing useful work. And we don't even mention the people we met, both local Khmers and international volunteers. All in all, it was a lot of fun and a unique experience.